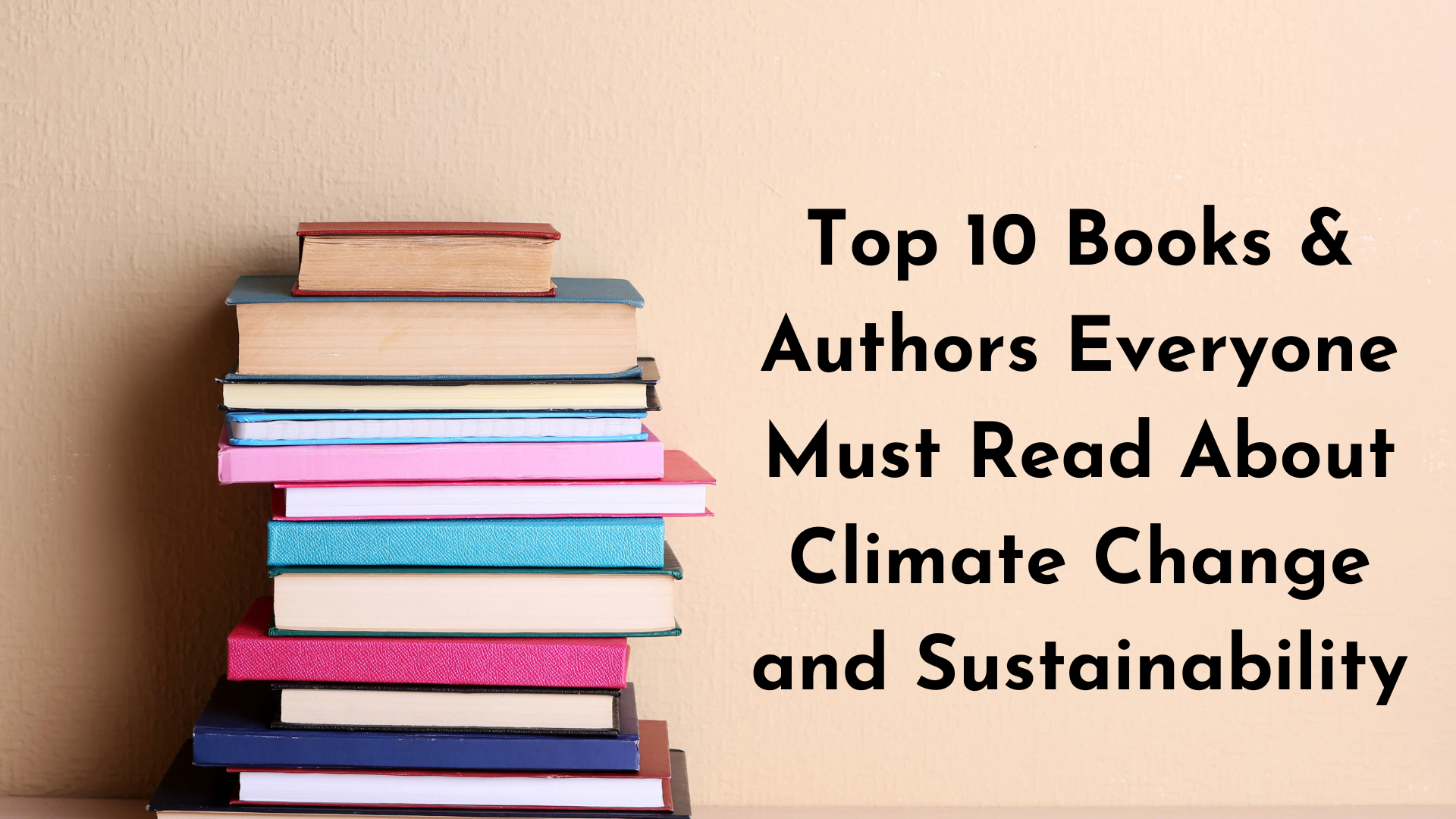 Introduction:
Climate change and sustainability are among the most pressing issues of our time. To truly understand the challenges we face and explore potential solutions, it's crucial to delve into the wealth of knowledge offered by experts and thought leaders in the field. In this blog, we present a curated list of the top 10 books and authors that provide invaluable insights into climate change, sustainability, and our collective responsibility to create a better future for our planet.
1. "The Uninhabitable Earth: Life After Warming" by David Wallace-Wells:
David Wallace-Wells offers a gripping exploration of the potential consequences of climate change, painting a vivid picture of the challenges we may face in the coming decades. This book serves as a wake-up call, urging us to take action to mitigate the impacts of global warming.
2. Drawdown: The Most Comprehensive Plan Ever Proposed to Reverse Global Warming" edited by Paul Hawken
"Drawdown" presents a comprehensive analysis of the top 100 solutions to reverse global warming. Edited by Paul Hawken, this book offers a ray of hope by showcasing tangible strategies and innovations that can lead us towards a sustainable future.
3. Silent Spring by Rachel Carson
Considered a classic in environmental literature, Rachel Carson's "Silent Spring" exposes the harmful effects of pesticides on the environment and human health. This influential book inspired the modern environmental movement and emphasizes the need for responsible stewardship of our natural resources.
4. Doughnut Economics: Seven Ways to Think Like a 21st-Century Economist" by Kate Raworth
In "Doughnut Economics," Kate Raworth challenges traditional economic models and proposes a new framework that prioritizes both social justice and ecological sustainability. This book offers a fresh perspective on how we can reshape our economic systems to create a more sustainable and equitable world.
5. The Sixth Extinction: An Unnatural History by Elizabeth Kolbert:
Elizabeth Kolbert explores the concept of mass extinction events and their correlation with human activities in "The Sixth Extinction." Through compelling storytelling and scientific research, Kolbert underscores the urgent need for conservation and preservation of biodiversity.
6. THE NEW CLIMATE WAR (Lead): The fight to take back our planet by Michael E Mann
In The New Climate War, renowned scientist Michael E. Mann argues that all is not lost. He draws the battle lines between the people and the polluters ― fossil-fuel companies, right-wing plutocrats, and petro-states ― and outlines a plan for forcing our governments and corporations to wake up and make real change.
7. This Changes Everything : Capitalism vs The Climate by Naomi Klein
Naomi Klein delves into the intersection of climate change and capitalism in "This Changes Everything." Exploring the inherent contradictions and challenges, she argues for transformative change that addresses both the climate crisis and social inequality.
8. Marginlands: Indian Landscapes on the Brink by Arati Kumar Rao
Combining enthralling nature writing and journalism with immersive art and photography, Marginlands is an urgent, vital work by a passionate chronicler of our environment.
9. The Water Will Come: Rising Seas, Sinking Cities, and the Remaking of the Civilized World" by Jeff Goodell
Jeff Goodell investigates the impacts of rising sea levels on coastal cities and communities in "The Water Will Come." Through extensive research and interviews, he highlights the urgency of adaptation and resilience in the face of climate change.
10. The Future We Choose: Surviving the Climate Crisis by Christiana Figueres and Tom Rivett-Carnac
Drawing from their experiences in leading the Paris Agreement negotiations, Christian Figueres and Tom Rivett-Carnac outline practical solutions for tackling the climate crisis in "The Future We Choose." This book empowers readers to take action and create a sustainable future.
These ten books and authors provide a diverse range of perspectives and insights into climate change and sustainability. By exploring their ideas, research, and narratives, we can deepen our understanding of the challenges we face and be inspired to take action. Whether you're new to the topic or well-versed in the field, these books are essential reads that can inform and guide our collective efforts towards a more sustainable and resilient future. So, pick up a book, expand your knowledge, and become part of the movement for positive change.
---